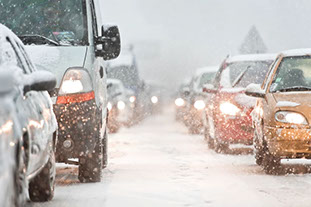 Winter in Colorado means bouts of snow, sleet, and freezing rain that raise havoc with driving conditions and road safety. While you can't control the weather, you can optimize your car for handling treacherous winter road conditions. A well-operating car is a safer car when the snow starts to fly.
How to prepare your car for winter driving:
• Check the tire tread; you want tires that grip the road
• Consider changing to snow or winter tires
• Fill up the tires but don't overinflate
• Rotate the tires
• Change the antifreeze
• If your heater isn't working, get it fixed
• Change the oil and switch to winter-grade oil
• Make sure your windshield wipers are winter-ready
• Top-off the windshield wiper fluid with "winter" fluid
• Inspect your battery; cold weather drains and kills batteries
Keep winter emergency supplies in your trunk
Winter storms can come up quickly. You don't want your family stranded in the cold without adequate protection. If you're traveling in your car over the holidays, an emergency kit can be a lifesaver during a winter storm. They're easy to assemble (or purchase at most hardware stores) and should include the following items:
• Flashlight
• Road flares
• First-aid kit
• Blankets and gloves
• Booster cables
• Windshield wiper fluid
• Bag of sand or kitty litter for traction
• Extra ice scraper
• Shovel
• Water and high-energy snacks
Wishing you a safe season of winter driving. If you have questions or concerns regarding your auto, home or business insurance. Call Sally at (303) 768-0000 or send an email to sallytaylorins@icloud.com.